Imagine having a dream of earning thousands of dollars and not knowing where to start. It's a situation many budding Internet marketers find themselves in, and that's unfortunate. These individuals also end up going with membership programs that are insufficient, faulty, or downright scams.
This Lurn Insider Review is going to assess one of the established Internet marketing programs on the market right now in the form of Lurn Insider by Anik Singal.

Here is more on its key features, pros, cons, and whether it is worth your time or not.
Key Features
Provides Mastery Courses With In-Depth Information (12)
Free Tools For Establishing New Marketing Campaigns
Detailed Case Studies With Regular Updates
Vast Online Community of Lurn Insider Members
Provides Live Q & A Calls (2 Times Per Month)
24/7 Support
Offers Anik Singal's Crafted Mailing Plans For New Campaigns
Provides Unique 23 Niches For Beginners
Includes 14-Day Free Trial
Pros of Lurn Insider
1) Future-Friendly Information
It's one thing to find a membership program with new information and another to find one where it's future-proof. Anik Singal has been doing this for years and establishes a guide that's easy to follow and provides value for the future.
You can use these techniques with full confidence.
The information is relevant, fun, and meaningful down to the last detail.
This is what makes it a powerhouse when it comes to the Internet marketing world and is the reason Anik Singal is renowned for his work. The information is well laid out and is future-proof as necessary.
2) Responsive Online Community

Lurn Insider has a plethora of members in its online community who are willing to help beginners. They are often found sharing information about their online journey and are quick to respond if someone requires assistance. This is the perfect crutch for those who feel it takes time for them to grasp things.
Instead of letting it get out of control, it's best to look at Lurn Insider as a good option.
The community is ideal and is wonderful at all times of the year. Anik Singal continues to add value, and that is the reason people want to engage.
3) Remarkable Free Tools
The free tools are a major plus point.
He offers free tools for setting up email campaigns and general online marketing campaigns. These include things such as autoresponders for those who want to set up their email campaign and get it to work efficiently. So many mistakes can be made here, and that is why people enjoy going with free tools that are provided by Anik Singal.
He has done an excellent job of breaking things down for those who want to get started but don't know how to. These tools are an extension of that support he provides along with his team.
4) Robust Case Studies
The one thing people are going to want is real proof, and that is where Anik Singal is a winner. He provides verified reports and case studies for a person to go through. This is full disclosure on his part and something many others don't do for their members.
It's a real plus point for Lurn Insider as a program.
Most others tend to hold this information back because they want to benefit from it but he has laid it all out. Not only has he laid out what has worked in the past, but he also continues to provide new case studies that are working right now using his methods.
5) Tremendous Online Support

Online support is one of those things people tend to fret about because who is going to be there when things aren't working out? You never want to be left alone with nothing on your side. This is where Anik Singal's hired staff is great because they are well-trained and know the nuances of his program.
These are individuals who are well-versed with what the program provides and will assist you on the spot when you call them up.
This level of support is unheard of with many new membership programs on the Internet.
6) Easy To Use For Beginners And Experts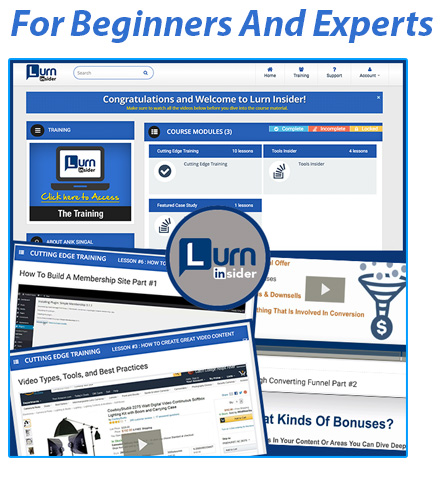 What about beginners who are looking to get their feet wet and don't know how things are going to work out? Is this a good fit or is it smarter to look elsewhere? Lurn Insider is neat because they have created a "safety net" of sorts for those who don't get things to work out immediately.
They know everyone is going to have different learning curves and they mention this repeatedly.
However, the charm of this program is they want to help you out. Whether it is their online support or the unique online community, beginners will be able to enjoy the information they're getting and can maximize it when they put in the time that's needed.
7) Proven Earnings
In the end, the goal is to earn money, and that is the sole purpose of going through this in the first place. Sure, you want to learn, but you also want to make money, and Lurn Insider does work. The community is growing by the day, and Anik Singal is reputable.
He has been around for years and continues to grow in stature.
He provides a lot of value, and the best part is, he has proven earnings to show for every one of his products. He doesn't fade away with time, and that is something you can lean on while trying to figure things out for the first time as a newbie. You will enjoy how he presents the information in Lurn Insider.
Cons of Lurn Insiders
1) Extensive Information Requires Patience
Just like any other Internet marketing product, you are going to have cons, and it is going to start with the way Lurn Insider is built. They have set up guides that are extensive, and that's ideal for those who are willing to stay patient and have time to spare.
You won't be able to pick it up for a few seconds and be on your way.
It is going to take time, but the rewards, in the end, will be well worth it for those who do stick to it. The reason he provides a lot of information has to do with the goal of helping you out.
2) Varied Earnings
The next con is one that's standard with any legitimate program. He doesn't fake earnings nor does he promise the world because he knows there is a lot of work to be done on your part while starting out. This is why there are varied earnings, and you are not going to be a millionaire right out of the gate.
If that is what you expect, you won't want to get this product because it is a legitimate fit and not a "get rich quick" scam that people get lost in.
Verdict
So, is Lurn Insider one of those membership programs that is going to bring a smile to your face and help with your online journey?
Yes, it is!
This is one of the best programs in the world right now, and it is legitimate from top to bottom. Anik Singal has hit a home run with this program, and it is a real winner, to say the least. The great online community, online support, and robust guides on Internet marketing are impossible to ignore.
You are going to have a great time using this information now and in the future, if you stick to it. It's a must for those who are serious about Internet marketing.
To get access to Lurn Insider follow this link >>> http://www.pushmoneyapps.com/lurn-insider-review-is-anik-singals-membership-worth-it/  where you'll find a more comprehensive review as well as links to purchase Anik Singal's Lurn Insider.
Informative  Articles: 
Internet Marketing Ideas
Lets Discuss Internet Marketing